Workshop - "Emerging Trends in Online Social Networks", 7-8 October 2014, Cyprus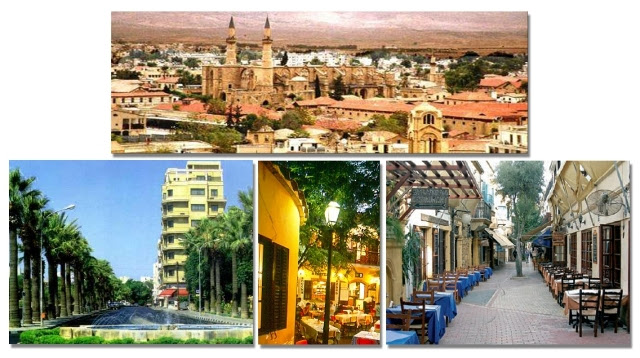 Venue Program Invited Speakers Abstracts Bios Registration
Date: October 7-8, 2014
Location: Nicosia, Cyprus
Organised by: University of Cyprus (UCY)
"Emerging Trends in Online Social Networks" is a workshop organized by the University of Cyprus. The workshop will encompass 7 invited talks of one hour each, one tutorial session and a poster session including short presentations for each poster.
The workshop will be open and it will take place in the Social Activities Building 3, Room 101 (1st floor) in the University of Cyprus, New Campus, on 7-8 October 2014.
For detailed location information and directions: map


Tuesday, 07 October 2014

Online Social Networks Session

10:00 - 11:00

Security and Privacy issues in OSNs
Speaker: Krishna Gummadi, (Max Planck Institute for Software Systems (MPI-SWS))

11:00 - 11:30
Coffee Break
11:30 - 12:30

Co-evolutionaly dynamics in social networks: A case study of Twitter
Speaker: Demetris Antoniades (University of Cyprus)

12:30 - 14:00
Lunch

Tutorial Session

14:00 - 15:30

Location-based Services – Part A
Speaker: Anastasios Noulas, (University of Cambridge)

15:30 - 16:00

Coffee Break

16:00 - 17:30

Location-based Services – Part B
Speaker: Anastasios Noulas, (University of Cambridge)
Wednesday, 08 October 2014 - Industrial Day

Web Search and Data Mining Session

09:30 - 10:30

Knowledge in Search Engines
Speaker: Maciej Kurant, (Google Zurich)

10:30 - 10:45
Coffee Break
10:45 - 11:45

Crowd-assisted Search for Price Discrimination in E-Commerce: First results
Speaker: Nikolaos Laoutaris, (Telefonica TID Research)

11:45 - 12:00
Coffee Break
12:00 - 13:00

SAMOA: A Platform for Mining Big Data Streams
Speaker: Gianmarco De Francisci Morales, (Yahoo Research)

13:00 - 14:30

Posters presentations and Lunch

Start-up Session

14:30 - 15:30

TBD
Speaker: Pankaj Mehra (SanDisk/Fusion.io)

15:30 - 15:45
Coffee Break
15:45- 16:30

USEUM: A PhD turned Start-up
Speaker: Foteini Valeonti (USEUM)

16:30 - 16:45
Coffee Break
16:45- 17:30

Decentralized Online Social Networks (Panel Discussion)
Max Planck Institute for Software Systems (MPI-SWS)
Bio, Abstract

Gianmarco De Francisci Morales

Pankaj Mehra

SanDisk/Fusion-io
Bio, Abstract

Foteini Valeonti
Keynote 1: Co-evolutionaly dynamics in social networks: A case study of Twitter (Speaker: Demetris Antoniades)
Complex networks often exhibit co-evolutionary dynamics, meaning that the network topology and the state of nodes or links are coupled,affecting each other in overlapping time scales. We focus on the co-evolutionary dynamics of online social networks, and on Twitter in particular. Monitoring the activity of thousands of Twitter users in real-time, and tracking their followers and tweets/retweets, we propose a method to infer new retweet-driven follower relations. The formation of such relations is much more likely than the exogenous creation of new followers in the absence of any retweets. We identify the most significant factors(reciprocity and the number of retweets that a potential new follower receives) and propose a simple probabilistic model of this effect. We also discuss the implications of such co-evolutionary dynamics on the topology and function of a social network. Finally, we briefly consider a second instance of co-evolutionary dynamics on Twitter, namely the possibility that a user removes a follower link after receiving a tweet or retweet from the corresponding followee.
Keynote 2: Knowledge in Search Engines (Speaker: Maciej Kurant)
Over the last few years, search engines have evolved from complex keyword matching and scoring algorithms towards systems that can understand users questions and answer them directly. Important factors in this evolution are the ability to represent knowledge in a way that computers can manipulate it, and the ability to connect structured knowledge to natural language corpora. This talk will discuss how Google search has been going through a radical transformation in this direction. We will talk about some of the key technologies behind the Google Knowledge Graph and its applications in search.
Keynote 3: Location-based Services (Speaker: Anastasios Noulas)
The wide adoption of smartphones by mobile users a few years ago signalled a massive transition of the web ecosystem towards the integration of information about regions, locations and places. Foursquare, Google Places and Yelp are only a few of the services that have risen by attracting the attention of millions of mobile web user around the globe. In the meantime, technologies that are disrupting traditional industries are being introduced by applications such as Uber and Airbnb and promise the arrival of new datasets that describe activity in urban environments. In this tutorial, we will explore the opportunities, brought forward by the new datasets that emerge from location-based services to analyse and model human mobility in cities. Our approach will stretch from the presentation of techniques inspired by research in complex systems, to data mining methodologies for modern local search and mobile recommendation frameworks. Subsequently, we will go through a number of scenarios for new applications in the area that include event detection and recommendation, location-based retail analytics and the modelling of neighbourhoods in cities.
Keynote 4: Crowd-assisted Search for Price Discrimination in E-Commerce: First results (Speaker: Nikolaos Laoutaris )
In this talk I'll go over some initial results from our measurement study aiming to identify signs of discriminatory practices in e-commerce. I'll present the tool we used to collect our data, analyze an initial dataset from some 300+ beta testers of the tool, and focus on instances of dynamic pricing observed in conjunction to different locations, retailers, and products. I'll later talk about the important challenges remaining for going from this initial study to a much more concrete and thorough understanding of the issue at a scale that is more representative of the actual practices of retailers at "Internet-scale". Finally, I'll try to connect this particular measurement study with other related important questions remaining unanswered in the general area of privacy economics, Internet advertising and e-commerce. Most of the material that I will present can be found in the following two articles: J. Mikians, L. Gyarmati, V. Erramilli, N. Laoutaris, "Crowd-assisted Search for Price Discrimination in E-Commerce: First results," ACM CoNEXT'13. J. Mikians, L. Gyarmati, V. Erramilli, N. Laoutaris, "Detecting price and search discrimination on the Internet," in Proc. of ACM HotNets'12.
Keynote 5: SAMOA: A Platform for Mining Big Data Streams (Speaker: Gianmarco De Francisci Morales)
Social media and user generated content are causing an ever growing data deluge. The rate at which we produce data is growing steadily, thus creating larger and larger streams of continuously evolving data. Online news, micro-blogs, search queries are just a few examples of these continuous streams of user activities. The value of these streams relies in their freshness, and relatedness to ongoing events. However, current (de-facto standard) solutions for big data analysis are not designed to deal with evolving streams. In this talk we introduces SAMOA (Scalable Advanced Massive Online Analysis), an open-source platform for mining big data streams.SAMOA provides a collection of distributed streaming algorithms for the most common data mining and machine learning tasks such as classification and clustering, as well as programming abstractions to develop new algorithms. It features a pluggable architecture that allows it to run on several distributed stream processing engines such as Storm, S4, and Samza. It is written in Java and is available at http://samoa-project.net under the Apache Software License version 2.0.
Keynote 6: USEUM: A PhD turned Start-up (Speaker: Foteini Valeonti)
USEUM, the first ever crowd-sourced museum of art, started 2 years ago as a part-time PhD project that aimed to develop "The Wikipedia of Art", whilst later it went on to become an award-winning funded company. In the last couple of years USEUM has faced, not only the academical challenges of a doctorate, but also, all the challenges of being a high-risk technology start-up company. USEUM today is a fully developed online museum exhibiting 13,000 paintings by 1,200 artists and various museums from all around the world and it has already launched its innovative Augmented Reality mobile application for iOS. In this presentation USEUM's Founder Foteini Valeonti will cover how USEUM started off and grew over time, overcoming the aforementioned challenges so far balancing between a doctorate and a fast-paced start-up.
Dr. Demetris Antoniades holds a BSc (2005), MSc (2007) and PhD (2011) in Computer Science from the University of Crete. His PhD studies where funded from the Hrakleitos II PhD Research Scholarship fund. He interned with Telefonica I+D in the academic year of 2010-2011 and he was a research assistant with FORTH from 2004 to 2011. Currently his research interest lie in the areas of Internet Measurement, Internet Monitoring, Internet and Networking Systems, Network Monitoring, Online Social Networks, Complex Networks and Cloud Computing. He has published in ACM IMC, ACM WWW, PAM, IEEE Network and has been a reviewer for IEEE/ACM Transactions on Networking, Computer Networks and more.
Dr. Anastasios Noulas is a Research Associate in the Computer Laboratory at the University of Cambridge. He has over 6 years of interdisciplinary scientific research experience on spatial data mining, dynamically evolving social networks, human mobility and recommender systems, with publications in top-tier conferences that include ICWSM, KDD and ICDM alongside journals of multi-disciplinary interest. After completing his MEng in Computer Science at UCL, Anastasios went to Cambridge to do his PhD, which focused on data analysis and modelling in location-based online social networks and related systems and applications with broad interest in social networks, human mobility and urban activity modelling. After finishing his PhD in 2013 Anastasios moved to Foursquare's Data Science Team as a Visiting Research Scientist and subsequently returned to the Computer Laboratory as a Research Associate, working on the EPSRC GALE Project, Providing Global Accessibility to Local Experience. During 2014 Anastasios was a Visiting Professor in the Department of Mathematics at the University of Namur, Belgium, where he taught a Master's Course on Location-based Services. Anastasios also works as a Data Scientist & Research Consultant at Piinpoint, a Start-Up that provides an on-line analytics platform for retail store localisation.
Dr. Maciej Kurant received a Ph.D. degree from EPFL, Lausanne, Switzerland, in 2009. Next, he worked at the University of California, Irvine, and at ETHZ, Switzerland. Since 2012 he is at Google Zurich. Maciej's pre-Google areas of research interest included graph sampling in Online Social Networks and inference and study of large-scale complex networks (such as the human brain). Currently, he is working with the Google Knowledge Graph.
Dr. Nikolaos Laoutaris is a senior researcher at the Internet research group of Telefonica Research in Barcelona. Prior to joining the Barcelona lab he was a postdoc fellow at Harvard University and a Marie Curie postdoc fellow at Boston University. He got his PhD in computer science from the University of Athens in 2004. In his latest work, Nikolaos has been focusing on the economics of ISP interconnection (including issues of network neutrality) and the economics of privacy on the web and e-commerce. His recent work on detecting price discrimination in e-commerce has received coverage by the international press and has lead to collaboration and consultation with several legislative and regulatory bodies including the European Commission's Directorate General on Internal Market (DG MARKT), the Federal Trade Committee in the US, and the Office of Fair Trade in UK. Prior to that Nikolaos had worked in various system, algorithmic, and performance evaluation aspects of computer networks and distributed systems, including: efficient inter-datacenter bulk transfers, energy-efficient distributed system design, content distribution for long tail content, transparent scaling of social networks, pricing of broadband services and ISP interconnection economics. He has published more than 60 publications in top-tier peer reviewed venues including ACM SIGCOMM, IEEE INFOCOM, ACM CoNEXT, ACM IMC, ACM SIGMETRICS, ACM PODC, WWW, ACM HotNets, ACM HotMobile, IEEE/ACM Transactions on Networking (h-index of 24 according to Google Scholar). He has served multiple times in the technical program committees of most of the above-mentioned venues and he has also been an associate editor for ACM Computer Communications Review, and Computer Networks Journal. He has filled more than 10 patents and has been granted 3.
Dr. Gianmarco De Francisci Morales is a Research Scientist at Yahoo Labs Barcelona. He received his Ph.D. in Computer Science and Engineering from the IMT Institute for Advanced Studies of Lucca in 2012. His research focuses on large scale data mining and big data, with a particular emphasis on Web mining and Data Intensive Scalable Computing systems. He is an active member of the open source community of the Apache Software Foundation working on the Hadoop ecosystem (Giraph, S4), and a committer for the Apache Pig project. He is a co-organizer of the workshop series on Social News on the Web (SNOW) co-located with the WWW conference. He is one of the lead developers of SAMOA, an open-source platform for mining big data streams.
Foteini Valeonti is the founder of USEUM and a PhD Candidate at UCL. USEUM is the first ever Crowdsourced Museum of Art and started off from Foteini's part-time PhD studies at UCL, the title of which is "Making Art more Accessible with Crowdsourcing and Augmented Reality". USEUM has received £110,000 as seed-funding and in 2012 it was the 1st prize winner of the Athens Startup Weekend competition hosted by the Microsoft Innovation Center. Foteini's background is a BSc (Hons) in Computer Science from the University of Piraeus and a 2-year MFA in Interactive Digital Media at Ravensbourne College of Design and Communication (part of City University), which she attended on scholarship and earned with A+. Her MFA thesis is an Augmented Reality iPad game she developed in collaboration with Shakespeare's Globe Theatre in London called "Shakespeare's Hunt". During her Masters studies,. Foteini worked as Lead Developer of mobile applications for the Museum of BMW. Foteini has been invited to discuss her research and work at various conferences, whilst as an undergraduate she was a Microsoft Student Partner, contributing to numerous projects & events.