Mon Sep 30, 2013
European Researcher's Night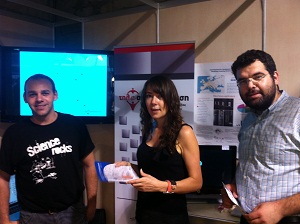 LINC participated in the annual European Researcher's Night (27/09/13) "Exploring science through fun learning", introducing to the public the research activities of the laboratory. The Cyprus 2013 event with theme "Science Rocks" took place in Limassol.
The Researcher's Night is supported by the European Commission as part of the Marie Curie Actions, which is an EU programme to boost European research careers. The event takes place every year all over Europe, in about 300 cities located in 35 European countries, on the last Friday of September.
LINC presented:
-
Τηλεαποκατάσταση/Telerehabilitation:
A novel pilot application of cardio-respiratory rehabilitation services in the community based on telemedicine, for patients after ICU discharge.
Project's website
-
EGI-InSPIRE:
Integrated Sustainable Pan-European Infrastructure for Researchers in Europe.
Local information
.