Mon Nov 20, 2017
3rd Innovation and Entrepreneurship Forum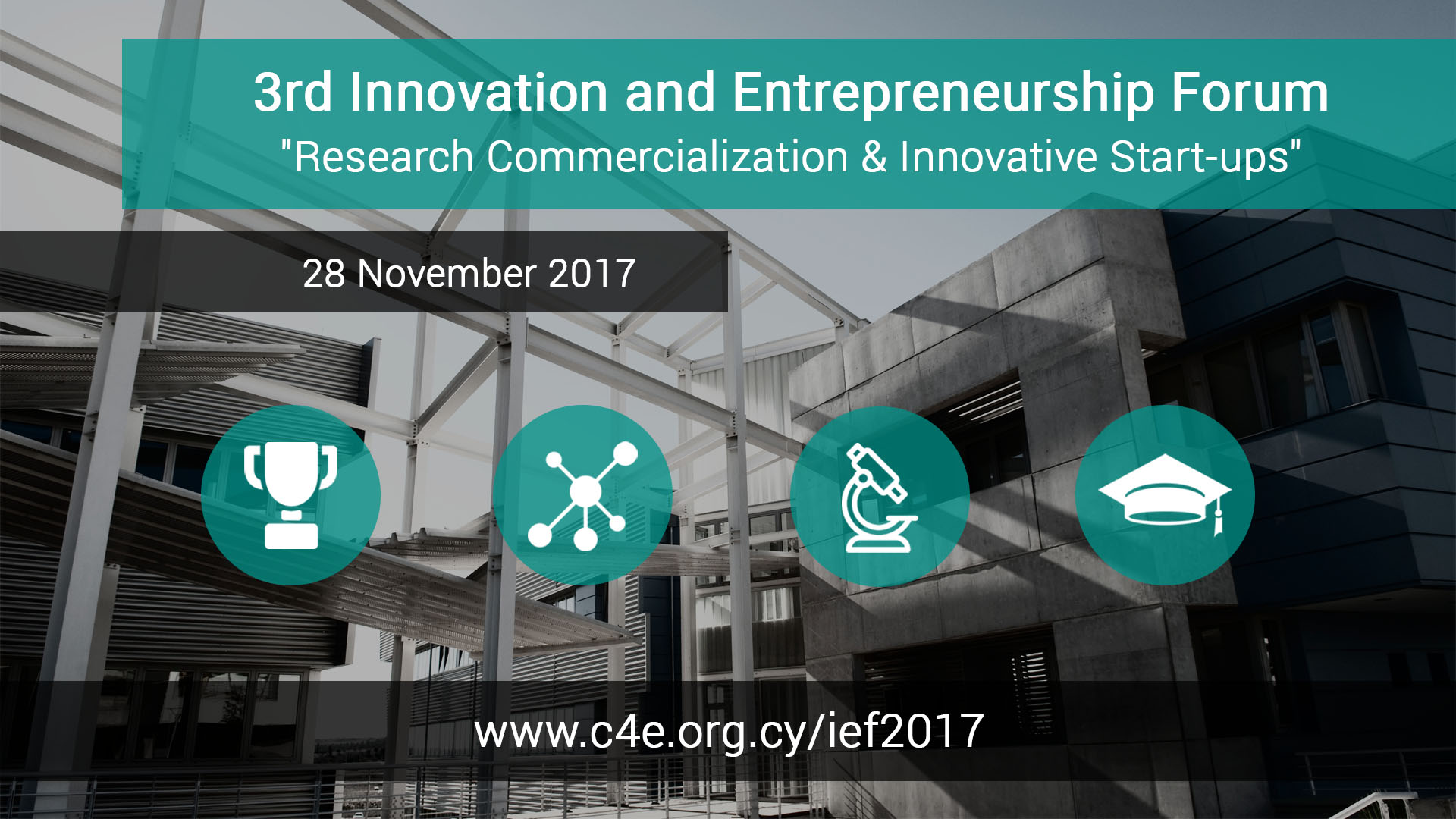 On the 28th of November, LInC participated at the 3rd Innovation and Entrepreneurship Forum (http://www.c4e.org.cy/ief2017/), under the Research Capacity Track Exhibition, that took place at the University of Cyprus. The three following projects presented their research activities and results from European Funded Programmes.
MANDOLA
MANDOLA is a real-time scalable, big-data platform for sentiment analysis of social data streams. MANDOLA takes advantage of data streams from social media like Twitter and other sources and uses natural language processing, text analysis and machine learning to identify, extract, quantify, and study affective states and subjective information.
MANDOLA has been configured and used to monitor the spread and penetration of online hate-related speech using a big-data approach, and present this information through the MANDOLA visualization dashboard. In addition to the big-data platform, MANDOLA comprises a novel mobile application running on major mobile platforms, which allows end-users to report anonymously and with a few clicks, any hate-related speech encountered on different mobile sites or mobile apps, via a unified, simple, user-friendly interface.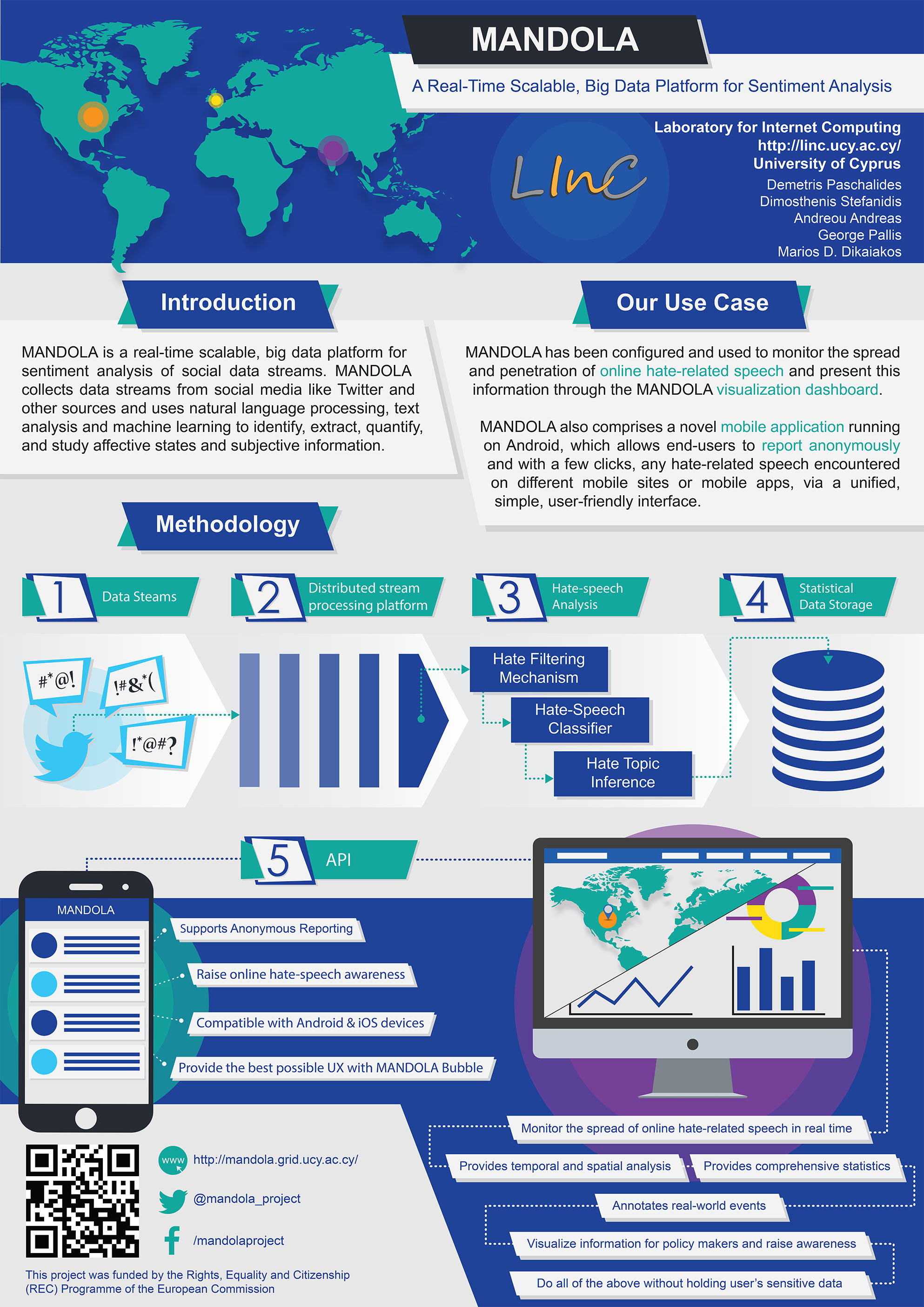 UNICORN
Over the past years, the worldwide cloud market has evolved, with growth projections exceeding $247 billion. Additionally, DevOps, became the leading software engineering trend among SMEs, shifting from traditional, large-scale delivery models to an agile mindset, enabled by better integrating development and operations teams and employing more automated processes. Moreover, SMEs & start-ups are adopting the Microservice architectural paradigm allowing them to break 'monolithic' applications into smaller services. Albeit DevOps and Microservice adoption is spreading, there are still many challenges that need to be overcome such as vendor lock-in, orchestration and management of multi-cloud application deployments, effective management and projection of cost budgets of deployed services and tackling security issues and data privacy constraints and restrictions.
Towards this end, the Unicorn Project will develop the novel DevOps-as-a-Service Unicorn framework. Unicorn aims to simplify the development, deployment and management of secure and elastic by design, multi-cloud services by developing a three-layered platform consisting of the Unicorn IDE built on top of the popular cloud IDE, Eclipse Che, that will allow members of the DevOps team to provide security and privacy enforcement mechanisms and restrictions, monitoring metric collection and resource management across multiple cloud sites, by using source code annotations provided by a set of design libraries. At the second layer, Unicorn Smart Orchestrator, is responsible to perform validation and enforce policies during the application's lifetime. Finally, the Multi-Cloud Execution Environment is comprised of the processing, storage and communication offerings allocated for the smooth execution of, deployed through the Unicorn platform, applications.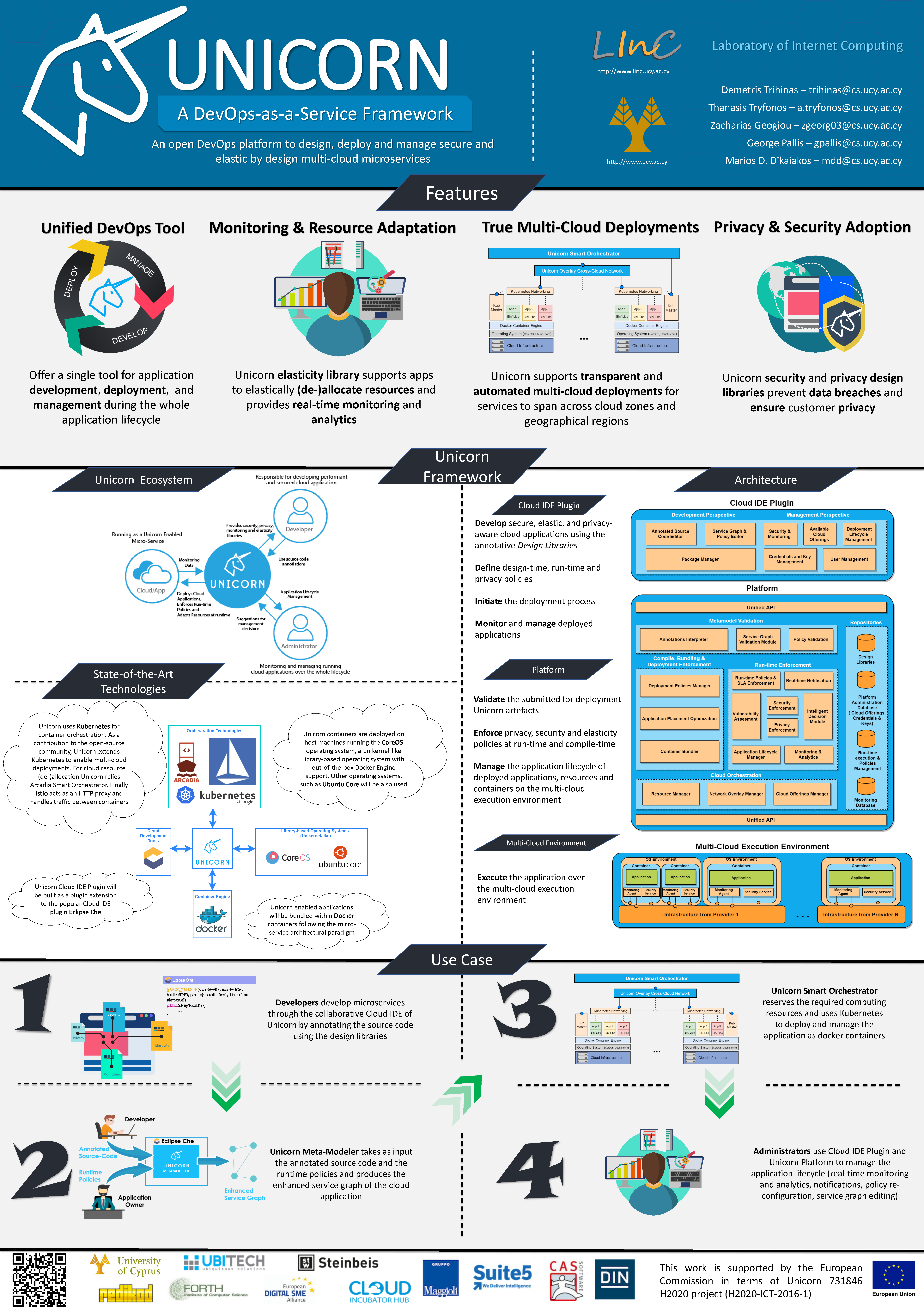 AdaM
Recent advancements in microelectronics and data mining have made the Internet of Things (IoT) a reality opening up new and disruptive opportunities for innovators to develop offerings capable of producing vast and analytic insights. However, to produce such an unprecedented wealth of insights intense processing and constant data dissemination over the network is still required. This results in increased energy consumption for IoT devices while cloud services consuming IoT data are constantly overwhelmed and are struggling to be effective.
AdaM is a lightweight framework embeddable in the software core of IoT devices (e.g., raspberry pi's, android devices), and monitoring tools in general, that addresses these challenges by dynamically adjusting the monitoring intensity and the amount of data disseminated through the network. This significantly reduces energy consumption on IoT devices while also reducing the amount of data flooding IoT services in the cloud. To achieve this, AdaM incorporates low-cost approximate and probabilistic learning algorithms for metric sampling and filtering that capture runtime knowledge from the monitoring metric stream evolution, trend and variability, adjusting the metric collection and dissemination rate of the IoT device based on the confidence of each algorithmic model to correctly estimate what will happen next in the monitoring metric stream. After testing AdaM with real-world data from cloud applications, wearables and intelligent transportation services, results show that AdaM is able to reduce energy consumption by at least 83%, data volume by 71%, shift detection delays by 61% while maintaining accuracy above 91% in comparison to other IoT frameworks.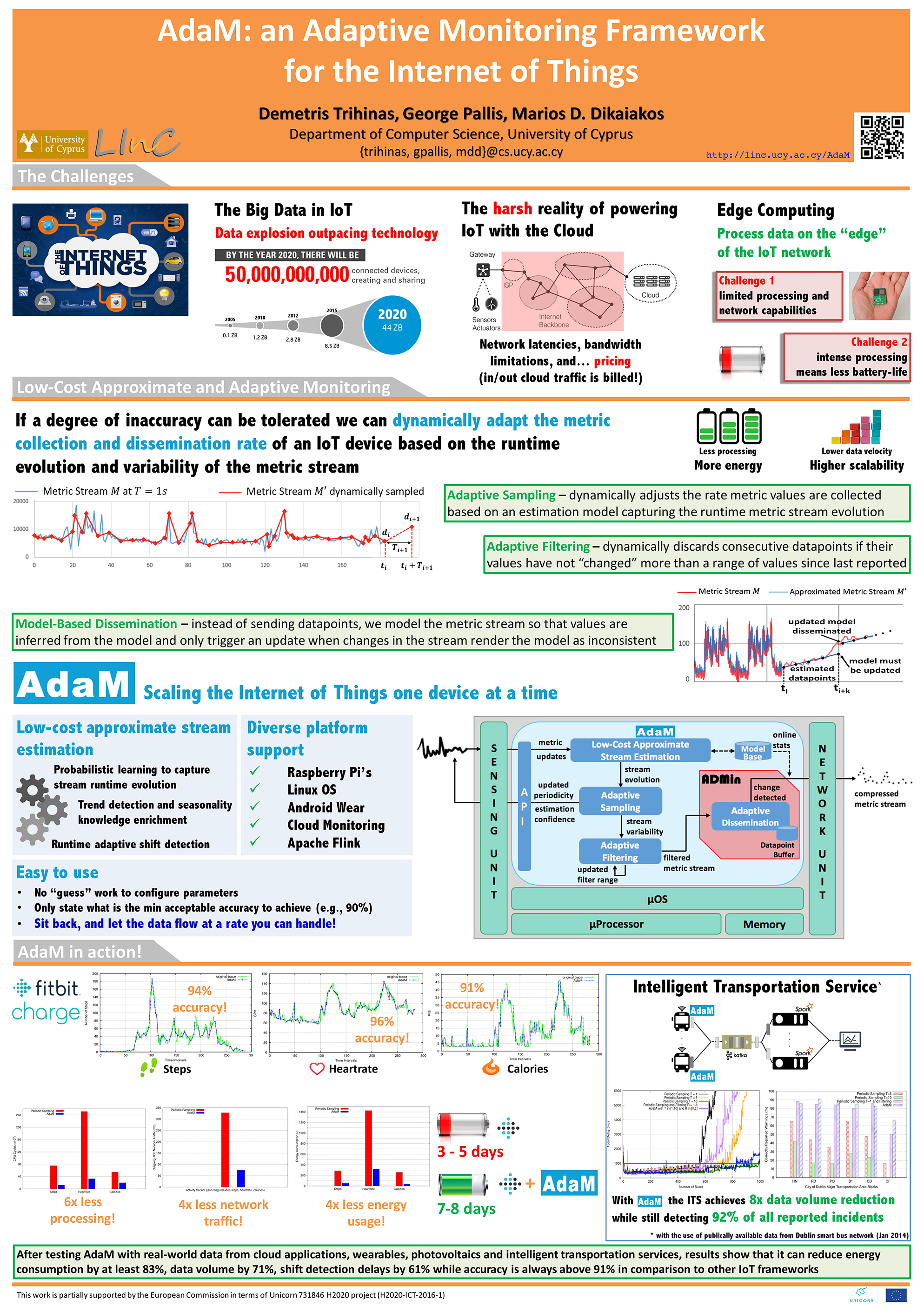 ____________________
During the exhibition, high-profile businessmen and investors visited the three LInC's poster stands and had the chance to get informed about the progress and results of the lab's projects.
Some of the key visitors:
- One of the keynote speakers, Anna Protopapas - President & CEO of Mersana Therapeutics (http://www.c4e.org.cy/ief2017/#spkr_anna_protopapas)
- One of the judges of this competition, Philip Ammerman - Managing Partner of NAVIGATOR
- Richard Proksa of MoneySwap who also asked for contact information,
- William J. Antholis - CEO of the Miller Center, whom we showcase statistics about the recent elections in Virginia
- Maria Leontiou - Head of Innovation Center Eurobank Greece, who was interested to use our system for brand acceptance from users in OSNs
- And most importantly, the President of Bulgaria, who was visiting the University at the time.
- Giorgos David CEO of 3E Hellenic
- T. Arapogloud ex-CEO of National Bank of Greece